HDC MidAtlantic participated in NeighborWorks Week, a weeklong initiative of NeighborWorks America that encourages network members to host neighborhood improvement events in the communities they serve.
HDC MidAtlantic celebrated by renovating two common rooms at Duke Manor Apartments in Lancaster, Pa., to accommodate the organization's growing Story Time program. Story Time is a reading program for children ages 5-10.
The program currently serves about 15 children, but limited space meant there wasn't enough room to accommodate all of the children who wanted to participate and the program consistently had a waitlist.
The newly renovated spaces, which were previously unfinished and used for storage, are larger and will allow more children to enroll in Story Time in this fall.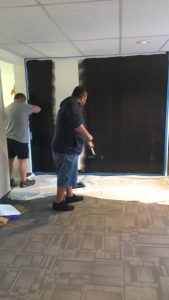 Renovations included new walls, lighting and paint. The concrete floors got a makeover thanks to the generosity and support of Sherwin-Williams who donated new carpet tiles. The cost of installation was covered by a grant from NeighborWorks America.
Ten HDC MidAtlantic employees and three residents (parents of children who attend Story Time) volunteered to finish cleaning the space, move and arrange donated desks and chairs, paint a chalkboard wall and set up bookshelves for a new Story Time library. Several employees donated books and other supplies to complete the space.
The time spent renovating the space encouraged a sense of community and relationship building between HDC MidAtlantic employees and residents. The children who participate in Story Time will grow into strong readers thanks to contributions from volunteers and donors who helped to renovate the space into a warm, welcoming and creative place designed to instill a life-long love of reading.
NeighborWorks America is celebrating its 40th anniversary this year. Since its Congressional chartering in 1978, it has expanded from around 50 organizations to nearly 25 nationwide. Yet, it has retained what makes it unique: a grassroots approach that allows every organization the flexibility to focus on the needs of its particular community. Over the past 40 years, NeighborWorks and its network have assisted close to 8 million people through affordable housing and counseling. In 2017, the NeighborWorks network provided housing and counseling services to 455,100 people, repaired 71,300 homes, and created and maintained 43,600 jobs.
To see more photos HDC MidAtlantic's NeighborWorks Week, please visit us on Facebook.