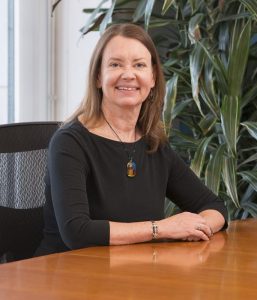 Dana Hanchin, President & CEO of HDC MidAltantic, announced the promotion of Deborah Gable to Director of Resident Services.
"Our mission is not only about providing safe, affordable housing, but meeting our residents where they are to improve their quality of life beyond the bricks and sticks," said Hanchin.  "Deborah demonstrates a strong sense of justice and embodies joy in her work, and reflects those qualities in her service to HDC MidAtlantic, our residents and communities."
As Director of Resident Services, Gable is responsible for overseeing the organization's Resident Services which is designed to strengthen the mental, physical, financial and emotional well-being of our residents and communities.  She oversees a team of 15 Resident Services Coordinators and one Resident Services Supervisor who work to provide access to information, services and resources that encourage resident growth, independence and stability at 38 HDC MidAtlantic properties located throughout Pennsylvania.
"I am honored to take this next step in leading the Resident Services Department in providing high quality services for the individuals living in our communities," said Gable.
Gable previously served as HDC MidAtlantic's Resident Services Manager, a position she held for five years.  Her background includes an extensive career rooted in social justice, serving as a passionate advocate for vulnerable populations in York County and the surrounding area.  She has served as director of education for Planned Parenthood of Central PA, a family therapist for Family Service Partners, an English as a second language instructor, and a counselor with Lincoln Intermediate Unit #12.
Gable earned her master's in human sciences and psychology at Hood College in Frederick, Md., and her bachelor's in individual and family studies from Penn State University in University Park, Pa.
Founded in 1971, HDC MidAtlantic is a 501(c)(3) nonprofit providing quality affordable rental homes to 4,800 residents including working families, seniors and individuals with disabilities throughout Pennsylvania, Delaware and Maryland. HDC MidAtlantic owns, develops and/or manages more than 3,700 affordable apartments by delivering high-quality and secure housing solutions through innovative property management, real estate development and resident services.