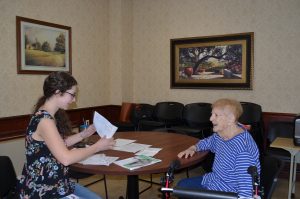 The Commonwealth of Pennsylvania offers a Rent Rebate Program that benefits eligible Pennsylvanians age 65 and older; widows and widowers age 50 and older; and people with disabilities age 18 and older.
HDC MidAtlantic Resident Services coordinators and volunteers offer assistance to eligible residents, at not cost, in completing the application and necessary paperwork to apply for a rent rebate. The program eases the financial burden on those living on fixed incomes like older adults or individuals living with disabilities.
This year, HDC MidAtlantic helped 571 residents apply for a total of $303,372 in rent rebates including 501 residents living at senior properties who sought $268,670 in rent rebates and 70 residents living at family properties who sought $34,702 in rent rebates.
The Rent Rebate Program is funded by the Pennsylvania Lottery and by gaming revenue.