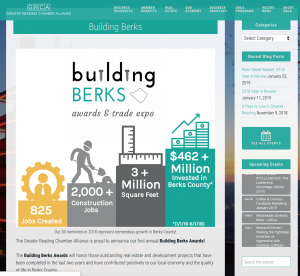 The Greater Reading Chamber Alliance awarded HDC MidAtlantic's River Run Meadows a Building Berks award for outstanding multi-family housing.
The Building Berks Awards honored real estate and development projects completed in the last two years that contributed positively to the local economy and the quality of life in Berks County.  Projects were evaluated based on design, aesthetics, and economic impact.
Located in Birdsboro, Pa., River Run Meadows is a 58-unit affordable housing community for families, seniors and individuals living with disability. The community includes six residential buildings consisting of one – and two – bedroom walk-up apartments, as well as two-story two and three-bedroom townhomes.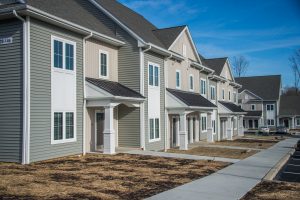 River Run Meadows Apartments was constructed to meet Enterprise Green Communities® standards which features water and energy saving devices throughout the property to offset utility costs for the property and save residents money. The new development also includes on-site laundry facilities, a community gathering space and a multipurpose athletic court for resident use. The property is adjacent to the Schuykill River Trail, giving residents close access to areas for jogging, walking and biking.
In July 2016, River Run Meadows Apartments was awarded $1,132,144 in Low Income Housing Tax Credits from the Pennsylvania Housing Finance Agency (PHFA). The total cost of development was $14.1 million.  Development partners included Architectural Concepts, BB&T, City Real Estate Advisors, Community Lenders, High Swartz, Nikolaus & Hohenadel, PHFA, Schlouch, Incorporated, County of Berks and Robeson Township.