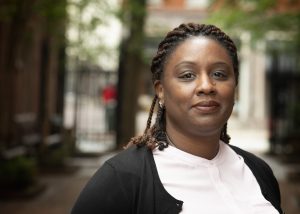 HDC MidAtlantic has hired Euvaline Ellington as its new director of property management.
In her new role, Ellington is responsible for overall strategic direction of HDC MidAtlantic's property management and overseeing an expanding 3,700+ unit affordable housing portfolio in the mid-Atlantic region.  She ensures that HDC MidAtlantic's affordable housing communities are managed to meet all financial, physical, regulatory, and industry performance standards and enhance overall quality life for the residents and communities HDC MidAtlantic serves.
"We are excited to have Euvaline join our executive team," said HDC MidAtlantic President & CEO Dana Hanchin. "We were impressed with her results-oriented approach, depth of experience and commitment to our mission."
Ellington has more than 25 years of property management experience.  She spent over 10 years as regional manager with Ingerman Management Company in Collingswood, NJ, and before that served as the director of asset and property management for North East Brooklyn Housing Development Corporation, a nonprofit in Brooklyn, NY, that focused on providing affordable housing, supportive services and re-integrating homeless individuals and families back into the community.
"I am grateful to join the amazing team at HDC MidAtlantic," said Ellington.  "The organization's core values align with my personal beliefs that rebuilding, stabilizing and strengthening affordable housing, providing access to resources promoting self-sufficiency and growth for employees and residents, are the keys to success in any community."
Ellington comes to HDC MidAtlantic with experience working in both private and nonprofit sectors. She is well versed in Low Income Housing Tax Credits as well as HUD's Housing Choice Voucher Program and Rental Assistance Demonstration. She is familiar with property management for student housing, market rate, conventional and co-op communities and has overseen management of distressed properties as well as new construction.
Ellington relocated from New Jersey to Lancaster.  She is the proud mother of a college-bound daughter and an energetic chocolate Labrador retriever.  Ellington earned a bachelor's in business administration and accounting from Milton Keynes College, Buckinghamshire, England. She holds a certificate in tax credit compliance from Quadel, as well as certificates in real estate maintenance and operations, and nonprofit housing management from the Institute of Real Estate Management.