The Pennsylvania Department of Community and Economic Development (DCED) awarded HDC MidAtlantic Neighborhood Assistance Program (NAP) Tax Credits for contributions totaling $175,000 to support the preservation of affordable housing in Lancaster County.
HDC MidAtlantic will receive $100,000 from Fulton Bank; $25,000 from BB&T; $25,000 from M&T Bank; and $25,000 from PNC. Contributions will be used to preserve 74 apartment homes for 191 residents, including low-income families and seniors living in two local HDC MidAtlantic affordable housing communities, The Apartments at Heatherwoods in Denver, PA, and Oak Bottom Village in Quarryville.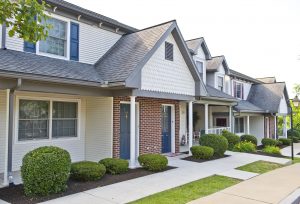 "We understand that the need for affordable housing is greater than ever, and we also understand HDC cannot do it alone.  Every dollar leveraged to preserve and grow affordable housing options is vital. So we appreciate our partnerships with banks that are committed to our vision of achieving a world where a safe, welcoming affordable place to call home is open to everyone," said HDC President and CEO Dana Hanchin. "Opportunities like the Neighborhood Assistance Program allow us to further strengthen communities and ensure that affordable housing will be available for generations to come."
"Fulton Bank is proud to support HDC's work to preserve affordable housing in Lancaster County," said Curtis J. Myers, chairman and CEO of Fulton Bank, N.A. "Through our Fulton ForwardTM initiative, we are committed to assisting communities throughout our footprint on projects that will have a long-term, meaningful impact. Promoting affordable housing, as well as homeownership, is one of our key priorities for 2020."
With support from the DCED NAP program, HDC will make over $2.5 million in renovations to the Apartments at Heatherwoods, a 56-unit townhome community, and Oak Bottom Village, a 18-unit townhome community. The renovations are part of an overall $12 million investment using the 4% Low Income Housing Tax Credit (LIHTC) Program and multi-family tax exempt bond financing.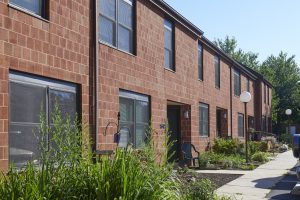 Residents will see numerous energy-efficiency upgrades and installations, including new appliances, LED lighting and low-flow plumbing fixtures. Solar panels will be installed at the Apartments at Heatherwoods and both developments will undergo major systems upgrades to roofs, windows and doors, HVAC systems and plumbing. Existing disability apartments will receive complete updates bringing them into compliance with current American with Disabilities Act standards.  HDC will continue to connect residents with programs and resources to support housing stability and economic mobility, improve health and wellness and promote community connection.
Renovations to the Apartments at Heatherwoods and Oak Bottom Village are part of a larger rehabilitation effort to preserve 208 affordable homes across four counties including Berks, Chester, Lancaster and Lebanon. These capital improvements are a critical step in HDC's strategic priority to preserve and expand housing affordability in the region, and will extend affordability in these communities for the next 35 years.
HDC will celebrate the award and its partner contributions at a check presentation with Fulton Bank on February 11 at Oak Bottom Village.
HDC MidAtlantic envisions a world where a safe, welcoming, affordable place to call home is open to everyone. Since 1971, HDC has been working to provide housing that is safe and affordable to those with lower incomes, focusing on seniors, families, and individuals living with disabilities. Serving over 5,000 residents in 58 communities located in urban, suburban and rural areas across Pennsylvania, Delaware and Maryland, HDC builds hope and opportunity for all residents to reach their full potential by creating, preserving, and strengthening affordable housing communities.
About Fulton Bank, N.A.:
Fulton Bank, N.A. is a subsidiary of Fulton Financial Corporation, a $21 billion financial holding company headquartered in Lancaster, PA. Fulton Bank operates more than 225 financial centers throughout Pennsylvania, New Jersey, Maryland, Delaware and Virginia. Learn more at FultonBank.com.
About BB&T
Branch Banking and Trust Company is a Member FDIC and an Equal Housing Lender. Learn more at www.bbt.com/.
About M&T Bank
M&T Bank Corporation (NYSE:MTB) ("M&T") is a financial holding company headquartered in Buffalo, New York. M&T's principal banking subsidiary, M&T Bank, operates banking offices in New York, Maryland, New Jersey, Pennsylvania, Delaware, Connecticut, Virginia, West Virginia and the District of Columbia. Trust-related services are provided by M&T's Wilmington Trust-affiliated companies and by M&T Bank.
© 2020 M&T Bank. Member FDIC. Equal Housing Lender. Learn more at mtb.com.
About PNC Bank
PNC Bank, National Association, is a member of The PNC Financial Services Group, Inc. (NYSE: PNC).  PNC is one of the largest diversified financial services institutions in the United States, organized around its customers and communities for strong relationships and local delivery of retail and business banking including a full range of lending products; specialized services for corporations and government entities, including corporate banking, real estate finance and asset-based lending; wealth management and asset management. For information about PNC, visit www.pnc.com.