The TD Charitable Foundation, the charitable giving arm of TD Bank has awarded a grant totaling $125,000 to HDC MidAtlantic as part of The Foundation's Housing for Everyone grant competition. A total of $3.75 million was provided to 30 nonprofits to improve access to safe, clean and affordable housing in communities from Maine to Florida. 

The organization will use the award towards capital improvements to preserve 42 affordable apartment homes serving lower-income households at HDC's Norriswood Apartments in Norristown, PA.  Originally built in 1962, the $10.5 million project will include significant repairs, upgrades, and improvements, which will ultimately preserve high-quality affordable housing in Montgomery County for the next 35 years. The rehabilitation is a critical component of HDC's new 5-year strategic plan to preserve and expand housing affordability in the region. Renovation costs will be financed using 9% Low Income Housing Tax Credits.
"We understand that we cannot meet the tremendous need for affordable housing alone, so HDC is committed to establishing partnerships, like this one with TD Bank, that help us achieve our strategic objectives to create, preserve and strengthen affordable housing options for generations to come," said Dana Hanchin, HDC President and CEO. "Opportunities like Housing for Everyone allow us to work together to build stronger communities, and this award is a strong affirmation of HDC's vision of a world where everyone, in Norristown and throughout the region, has access to safe, welcoming and affordable housing."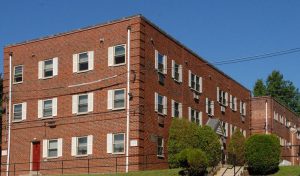 Renovations will include upgrades to improve energy efficiency and sustainability, meet current ADA compliance requirements, and replace basic systems including HVAC, roofs, flooring, and windows. A majority of apartments will receive new appliances and fully renovated kitchens and bathrooms. New sprinkler and fire suppression systems will be installed, and common areas will be upgraded to include outdoor seating and a community room as well.  In addition, HDC MidAtlantic will designate seven apartments to serve individuals living with mental health challenges or physical disabilities.  HDC will offer on-site supportive services, connecting residents with programs and resources to support housing stability and economic mobility, improve health and wellness and promote community connection.
"The Housing for Everyone grants bring the bank's social impact platform, the TD Ready Commitment, to life by helping to create safe, affordable residences for those in greatest need," said Paige Carlson-Heim, Director of the TD Charitable Foundation and Office of Charitable and Community Giving. "We recognize that having a safe, affordable place to live is essential to achieving financial security. "
The Housing for Everyone grant competition supports TD's longstanding commitment to community enrichment through TD's social impact platform, the TD Ready Commitment.  The TD Ready Commitment actively promotes inclusivity, economic vitality, environmental wellbeing and health, enabling people of all backgrounds to succeed in a rapidly changing world. As part of the TD Ready Commitment, TD targets US $750 million in total by 2030 towards community giving in four critical areas: Financial Security, a more Vibrant Planet, Connected Communities and Better Health. Through this platform, TD aspires to create a more inclusive tomorrow — helping people of all backgrounds feel more confident, not just about their finances, but about their ability to achieve their goals. Visit: https://www.tdbank.com/corporate-responsibility/the-ready-commitment/
About HDC MidAtlantic
HDC MidAtlantic envisions a world where a safe, welcoming, affordable place to call home is open to everyone. Since 1971, HDC has been working to provide housing that is safe and affordable to those with lower incomes, focusing on seniors, families, and individuals living with disabilities. Serving over 5,000 residents in 58 communities located in urban, suburban and rural areas across Pennsylvania, Delaware and Maryland, HDC builds hope and opportunity for all residents to reach their full potential by creating, preserving, and strengthening affordable housing communities
About the TD Charitable Foundation
The TD Charitable Foundation is the charitable giving arm of TD Bank, America's Most Convenient Bank®, one of the 10 largest commercial banking organizations in the United States. Since its inception in 2002, the Foundation has distributed over $230 million through nearly 21,330 grants through donations to local nonprofits from Maine to Florida. More information on the TD Charitable Foundation, including the online grant application, is available at https://www.tdbank.com/corporate-responsibility/the-ready-commitment/funding-opportunities/