At HDC, we've built a network of partners that believe in our vision and are committed to helping advance HDC's mission. We are better because of our partners. We know we can't do this work alone. And honestly, we wouldn't want to. We value our partner's expertise, knowledge, and passion to make our communities better, safer places to call home.  
Our work does not only revolve around housing, but the many other social, economic and environmental factors that affect the health and wellbeing of our communities. Resources like access to healthy food and financial assistance contribute to the health and stability of our residents. And as we've all adjusted to the challenges posed by COVID-19, our partners of all types, sizes, and purposes have come together to keep our communities safe, healthy and stable. Over the past month, friends, partners, and neighbors across Pennsylvania have stepped up to provide HDC residents in need with extra resources including food boxes, grocery gift cards, meal vouchers, and masks.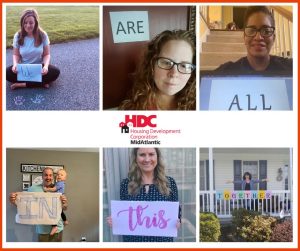 Berks County 
Chester County 
Lancaster County 
David and Darlene 

Flaud

, who own a snow removal company that services 

Mountain View Terrace

 in New Holland, donated food boxes to seniors living at the community. Community Manager

 Jane Wilt, with the help of partner 

Landis Communities

, distributed the food boxes to residents on April 10 so the residents could bake a holiday meal for Easter.

 The 

Flaud's

 also own 

Premier Structures

.

 
Luzerne County 
Holy 

F

amily Church Food Pantry

 donated non-perishable food boxes to residents at

 

Exeter Senior Living

 in Exeter.

 

The Wyoming Library Sewing 

Club

 and 

a f

amily member of a resident living at Exeter Senior Living both donated handsewn masks for residents to wear.

 
Food Access 
In addition to the partnerships listed above, HDC has continued to work with the following organizations to assist in food access and security: 
Are you interested in helping HDC MidAtlantic? Reach out to Debbie Gable our Director Residents Services. 
For more HDC news and updates, sign up for our e-newsletter!