The Michael R. Carper Hope & Opportunity Fund was established in 2016 as an emergency fund for residents in need of support to maintain housing stability. Thanks to our committed partners and generous donors, the fund has s Since 2016, the fund has supported 137 households, with nearly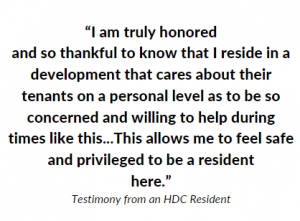 $90,000 given directly to residents. Grants from the fund, averaging about $650, have helped households navigate the unexpected; reduced hours at work, loss of employment, car repairs, death of a family member, personal medical issues, or caring for a loved one. Life events that happen to all of us but should never mean the choice between paying rent or utility bill and purchasing food for your family—but often do. 
You can support our work to support resident today by making your tax-deductible gift to by clicking on the donate button below.   

Or make a check payable to HDC MidAtlantic and mail to: 
HDC MidAtlantic
4-6 West King St., Ste. 4
Lancaster, PA 17603 
Interested in making an in-kind contribution or exploring more options for giving to benefit HDC MidAtlantic? Please contact Amy Spellman, Senior Resource Development Officer, at 717-291-1911 x 8062 or aspellman@hdcweb.com for more information.  
Housing Development Corporation MidAtlantic is a 501(c)3 charitable organization. Your gift is tax deductible within IRS guidelines. The official registration and financial information of Housing Development Corporation MidAtlantic may be obtained from the Pennsylvania Department of State by calling toll free, within Pennsylvania, 800-732-0999. Registration does not imply endorsement.